Disease-Specific and Target-Specific Therapeutic Agent Development with Patient Derived Xenograft Models
With a current clinical failure rate of over 90%, research models that replicate the complex heterogeneity of solid tumor cancers are essential for optimizing the development of tomorrow's treatment modalities. Patient-derived xenograft models represent the most widely used models in cancer treatment research. Champions Oncology has established an extensive global Clinical Collaboration Network that provides access to a broad range of patient-derived xenograft models. With greater than 1000 models to choose from, you can select the most optimal cohort to gain the data and knowledge necessary to develop disease-specific and target-specific oncology therapeutic agents. Our oncology research experts can also partner with investigators to conduct studies that utilize commercially-available or customized cell lines.
The Champions TumorGraft® platform is a powerful solution for providing insights across the entire drug development cycle, from discovery to clinical research initiatives. Leading multi-national pharmaceutical organizations as well as emerging biotechs identify our bank of greater than 1000 patient-derived xenograft (PDX) models as a valuable resource for answering key development questions, determining a clinical trial strategy, and validating clinical outcome data.
Our models are consistent with the desired patient profile for oncology clinical trials – heavily pretreated, metastatic, advanced-stage disease with relevant molecular and pathological characteristics. We source our models through our clinical collaboration network, which annotates models with accurate and well-documented diagnoses and medical histories.
PDX Model Cohorts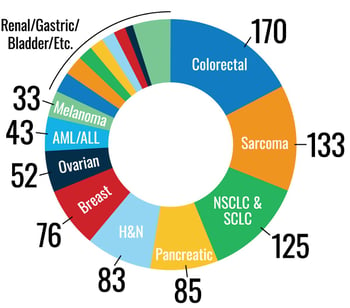 Champions Oncology patient-derived tumor grafts are a large, diverse bank of clinically-relevant PDX models with demonstrated correlation to clinical outcomes.
The models reflect disease characteristics that closely mirror those of clinical trial populations. We can provide large cohorts of PDX models for multiple solid tumor types, including:
Researchers in need of unique and specific cohorts of models can partner with Champions Oncology for:
Breast Cancer models by ER/PR/HER2 subtype with known patient treatment history and molecular characterization
NSCLC models with specific EGFR mutations and known clinical pretreatment ranging from chemotherapies to targeted inhibitors
Platinum pretreated ovarian tumors with known response to a PARP inhibitor
Documented mutations for important genes such as KRAS, ALK, MET, BRAF, BRCA, and RET or molecular abnormalities such as microsatellite sequence instability status
Prostate PDX models with known PMSA and AR cell surface expression