Lumin Bioinformatics Software
Illuminating the Cellular Dynamics of Cancer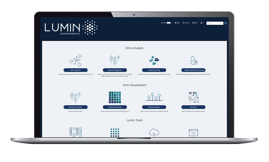 Lumin Bioinformatics is a dynamic analytic and visualization software that empowers cancer biologists to harness the power of computational science in a convenient and sophisticated tool. The power of Lumin is in the ability to explore and perform analysis on rich and unique datasets assembled from over 12,000 cancer patients, including thousands of clinical treatment responses not available in any public dataset.
Champions' Lumin offers access to advanced analytics and AI, allowing you to incorporate your own analyses.
Lumin Bioinformatics Available Now as:
A yearly subscription for access to precomputed datasets and predefined analytics.
Pay per CPU - when running real-time analyses across the full database.

Access to incorporated workflows and AI.
Incorporate your own computational workflows.


Lumin Bioinformatics Software Features:
Upload your Own Data:
Upload data for processing
Upload pharmacology data to perform customized computational correlative and causal analyses



Explore the Lumin Data Center:
2 Billion Public and Proprietary Cancer Datapoints
WES, RNAseq, Quantitative Proteomics, Phospho-Proteomics
4 Million Gene/Protein Interactions Mapped

Access Features:
Interactive Gene Network

All known and predicted gene networks mapped
Explore specific types of interactions
Evaluate protein expression and specific phospho-site status across a defined tumor cohort

Biomarker Signature Discovery

Explore correlative and casual relationships

Tumor Clustering

Leverage Champions' proprietary clustering tool to overlay an uploaded sequence with the TCGA or Champions' PDX models

Dataset Discovery Analyses

DGE, Fisters Exact, Pearsons
Gene set Enrichment
PDX Dependency Mapping

Interested in Lumin Bioinformatics Software?
Request a demo to learn more about our new innovative bioinformatics platform and how you can start revealing more from your data.