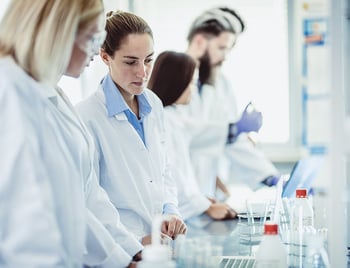 Quality Assurance or QA is part of a larger quality management system that focuses on ensuring that quality requirements are being satisfied within each study completed. Quality Assurance involves reviewing quality aspects at an organizational level and within a specific protocol in the study itself. At Champions Oncology, QA is carried out both within an organization through internal audits on specific processes and procedures and also through client-driven external audits.
Audits (internal or externally driven) can occur at many different points throughout a study. Specifically, critical phase audits are completed during a study to ensure that protocols are being carried out correctly and standard operating procedures (SOPs) are being used as directed. Final study audits are completed at the end of a study and these audits are completed to evaluate the methods that are used and if those methods are reflected accurately in data from the study itself.
Champions Oncology is compliant in multiple regulatory environments within our organization, specifically we are GCLP-Compliant for our toxicology analytical endpoints and we are GCLP-Compliant for our clinical flow cytometry and other clinical analytical endpoints.
At Champions Oncology, we welcome current clients or potential new clients to visit our laboratory for due-diligence audits as well as for active study audits. We want to ensure scientific and operational success at every level within our organization and transparency through internal and external auditing is important to ensure that success.