Illuminating the Cellular Dynamics of Cancer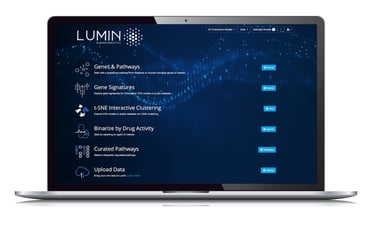 Lumin is a revolutionary data interpretation software capable of analyzing proteomic, genomic, and transcriptomic datasets in real-time, providing scientists with the ability to gain novel insights at their fingertips. The power of Lumin is in the ability to explore data assembled from over 20,000 cancer patients, including thousands of clinical treatment responses not available in any public dataset.
Champions' Lumin offers a range of analysis and visualization tools that can be utilized in all stages of drug development.
Champions continues to integrate new datasets into the Lumin platform. Recently, Acute Myeloid Leukemia (AML) model data were added as well as cell surface and phospho-proteomic datasets.
New tools within the Lumin Bioinformatics platform can be accessed by upgrading your Lumin subscription at any time. New tools and updates recently added are:
Network Viewer Tool

- Build protein-protein interaction maps and overlaying phospho-proteomic data.
Synergy Plot Tool - Upload plate maps and response data from drug combination studies to perform Loewe, Bliss, ZIP, HSA or Schindler measurements of synergy, additivity or antagonism.

Gene Dependency Mapper Tool - A machine learning model (Gradient Boost Machine, GBM) was trained to predict the survival dependencies of cells on a list of genes.
With Champions' partnership with Code Ocean, Lumin users will now be equipped with a robust methodology and packaging for centralizing, storing, and organizing large amounts of code and data in Code Ocean Compute Capsules™ within the Lumin Platform, while leveraging single-tenant hosting.
Explore Lumin Bioinformatics: