Flow Cytometry Assay Validation is an integral step in the creation of a robust and reliable assay that can move into the clinic and provide critical insights for your patient populations and overall trial. At Champions Oncology, each validation plan is designed to be fit-for-purpose with as many test scripts as you deem necessary to ensure your assay is functioning in a reproducible fashion and that your reportables are robust enough to glean insights from the assay when it moves into the clinic. Here are some examples of assay validation test scripts that can be chosen as part of your validation plan:
Precision

Inter-Assay Precision
Accuracy
Repeatability (Intra-Assay Precision)
Inter-Analyst precision

Robustness

Limits of Detection
Dynamic Range / Limits of Quantification
Receptor Quantification

Stability

Sample Stability
Fixed Stability
Freeze / Thaw Stability
Long-Term Stability

Function

Stimulation Time Course
Competing / Non-Competing mAb
Target : Effector --> Killing Assay
In addition to developing a flow cytometry assay validation plan, it is important to determine your acceptance criteria for each test script prior to validation testing. Acceptance criteria allows you to easily determine if the assay passed or failed each test as part of your overall validation plan. Once a validation plan is created and signed, experimental evaluation can begin on your study.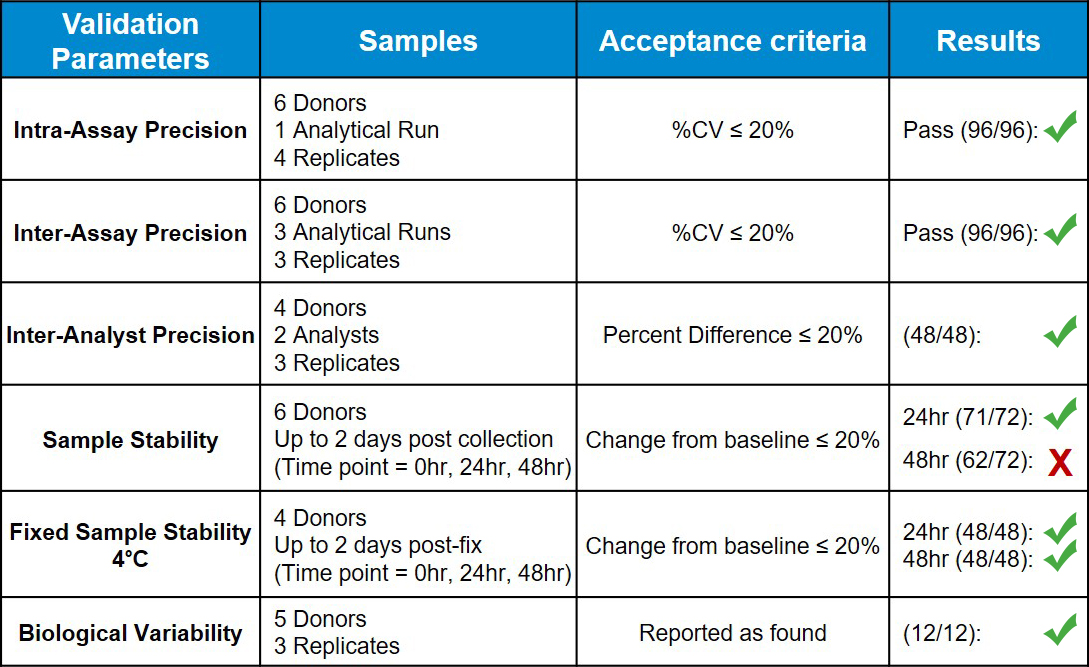 Exemplary flow cytometry assay validation from an in-house human IPT-10 panel